A Controversial Met Gala
05/02/2023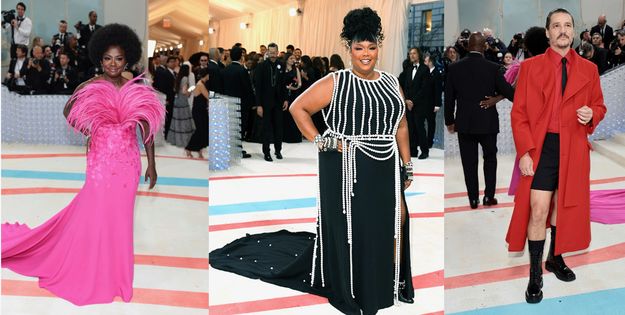 The Met Gala is considered the biggest night in fashion and every year people are excited to find out the theme of the event and to see how each attendee interprets that theme. This year's theme, however was met with a lot of controversy. The 2023 Met Gala theme was Karl Lagerfeld: A Line of Beauty.
The choice for Lagerfeld to be the theme of this year's Met Gala shocked and upset many. There is no denying that Karl Lagerfeld who was known for his work at Chanel, Chloe, Fendi and his own line Karl Lagerfeld made a big impact on the fashion industry. It was not his career that had many upset, rather his personal beliefs and the controversial comments he made during his life.
Lagerfeld was known for making misogynistic, racist and fatphobic comments. He called Adele "a little too fat", said "no one wants to see curvy women", criticized the Me Too Movement and dressed a model in blackface to name a few of the problematic things he did throughout his life and career.
Many celebrities including Met Gala favorites like Blake Lively, Beyoncé and Zendaya were notably absent from the event this year. Although it hasn't been confirmed, it has been rumored that several celebrities opted to skip the gala in protest of the theme. Despite their absences the gala went on with over an estimated 400 guests in attendance.
Among those in attendance were several guests wearing looks that Karl Lagerfeld would have never approved of. I can't say whether or not anyone intentionally wore looks that Lagerfeld would've hated in protest of the theme, but what I can do is show you some of the looks that he undoubtedly would've hated:
Everything Pink:
Stars like Viola David, Quannah Chassinghorse, Harvey Guillen, Naomi Campbell and more opted to wear pink to the Met Gala. Lagerfeld once said "Think pink, but don't wear it". He was known for the colors black, white and occasionally red but never pink. Once again I cannot confirm if anyone intentionally wore pink to throw shade at the designer's problematic past, but I can confirm that he would have hated these looks.
Lizzo:
Lagerfeld was known for being fatphobic and once said "No one wants to see curvy women. You've got fat mothers with their bags of chips sitting in front of the television and saying thin models are ugly. Fashion is about dreams and illusion." Not only would Lagerfeld have hated that a plus size superstar like Lizzo was attending the gala, he also would have hated the picture she posted eating fries in her gown before the event. This didn't stop Lizzo from confidently wearing her black gown that was covered in pearls. In fact the star even performed inside the gala.
Pedro Pascal:
At first glance you might have mixed opinions about Pedro Pascal's Met Gala look, but what you might not realize is the irony of how much Karl Lagerfeld would have hated his look. Lagerfeld hated seeing leg hair on men, he preferred knee length socks and pants. He was once quoted saying "I like socks, but only up to the knee. I hate nothing more than when men cross their legs, and you see hairy legs, the worst. The worst!" Pascal definitely didn't care about Lagerfeld's opinion the subject when dressing for the Met Gala. He opted for shorts and calf-length socks that showed off a good portion of his legs including his leg hair. Lagerfeld's opinions about leg hair on men didn't phase Pascal at all as he confidently walked the Met steps.
Iryna Shayk:
Even though the model saved the look for the after party rather than the Met Gala itself, there is no doubt Lagerfeld wold have absolutely despised what she wore. Shayk opted for a comfortable after party look, which included sweatpants. In his book 'The World According to Karl' he wrote "Sweatpants are a sign of defeat. You lost control of your life, so you bought some sweatpants." Shayk definitely looked in control of her life and there was not a sign of defeat in sight, despite what Lagerfeld would've thought. She looked absolutely stunning and managed to make sweatpants look high fashion.