1
2
3
Tips For Styling A Mask
07/15/2020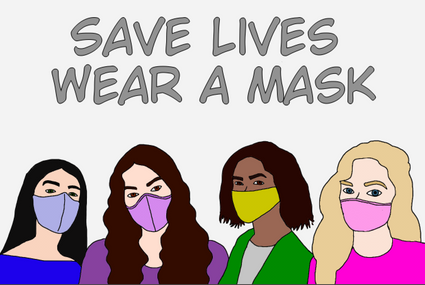 Do I Have To Wear A Mask Every Time I Leave The House?
The short answer is yes. Even though wearing a mask can be annoying the truth of the matter is that it would be a lot more annoying to catch Covid-19 because you decided wearing a mask was beneath you. Additionally you're not only protecting yourself but others as well because without a mask you could potentially be spreading the virus to others especially if you're unaware that you have. Of course if you absolutely refuse to wear a mask you do have another option, which is to stay home.
What Kind of Mask Should I Be Wearing?
I'm not a professional but from what I understand it is recommended to wear one of two masks. Either a disposable mask usually sold in a pack or a cloth mask either homemade or purchased. N95 or other similar masks might seem more protective, but the reality is those masks should be left for the healthcare workers.
How Should My Mask Fit?
Again I'm not a professional, but from what I've been told the most important thing is that your mask covers your nose and your mouth. It should also fit snuggly, because if it is too loose that defeats the purpose. Typically cloth masks will have a sizing chart especially if you order online, the best advice I can give in terms of the fit of a mask is to follow the size chart and purchase whatever size you think coincides with your measurements. Also keep in mind that people with smaller faces might be better off wearing a kid sized mask.
Where Can I Buy A Mask?
It seems like these days masks are sold just about anywhere. It doesn't make a difference where you purchase your mask in terms of quality because as long as your nose and mouth are covered any mask will do the job. In terms of size, comfort and style there are plenty of places you can shop for masks. Target sells kid sized masks in a two pack for less than $5 and the best part is the fabric is thin enough so that it is still breathable, Amazon has a huge selection of masks in all sizes and you can even buy 4 packs of mask so you can give some to your family or keep them for yourself so you can have color options, Dressbarn has a selection of masks for those of us who don't want to sacrifice fashion and Talking Out Of Turn has masks with the cutest designs and a unique fit that I prefer over any other mask I own. Of course you could always get crafty and make your own masks out of fabric too.

Now for the style tips-
Style Tip #1: Match your mask to your outfit. Several stores like Forever21 and. Dazey LA even sell matching sets that include matching tops, bottoms and masks. If you don't want to or can't find a matching set you can purchase masks in different colors so that you can match each outfit to a mask.

Style Tip #2: Instead of a mask use a scarf to give your outfit more of a fashionable appearance. You can find tutorials on Youtube or other websites that teach you how to tie a scarf so that it is just as effective as a mask.
Style Tip #3: If you're as extra as I am then you need a mask that is just as extra as you are. You can find designer masks with sequins, glitter, lace and other embellishments. A designer mask is a simple way to bring your outfit up a notch.
Style Tip #4: If you don't want to draw attention to your mask try wearing a neutral mask in a color that matches your skin tone. A neutral colored mask won't take attention away from your outfit.
Style Tip #5: Wear some bold eye makeup. Since masks tend to cover at least 50% of your makeup wearing bold eye makeup is a good way to draw attention to your face even when the rest of your makeup isn't visible. Graphic eyeliner, bright colored eyeshadow and shimmery eyeshadow are all great makeup techniques that will draw attention to your eyes.
Style Tip #6: Don't be afraid to accessorize. Just because you're wearing a mask doesn't mean you can't wear big earrings or a sparkly hair clip too. Wearing accessories with your mask might seem like a lot, but don't fret adding additional accessories is fashionable not over the top.
Style Tip #7: Match your mask to your accessories. For example if you're wearing light pink or black accessories such as belts, sunglasses or purses try wearing a mask in the same color. Even if the accent color doesn't match the entire outfit it can be a good way to tie in your accessories for an extra put together look.
Style Tip #8: Try incorporating a mask chain into your look. Mask chains are the newest accessory that hold your mask around your neck so that you can keep your mask around your neck during moments when you need to take it off like when you're driving. You can also find cute chains that match your jewelry to complete your outfit.
My Complete Skincare Routine
03/18/2019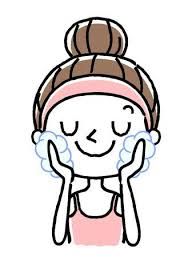 For as long as I can remember friends and even strangers have complimented on how clear my skin is and even questioned why I use foundation. I'm constantly being asked about "the secret to my clear skin" and the truth is I've never had a "secret", for years my skincare routine basically consisted of a daily washing or two of my face. As I get older at almost twenty years old I decided I needed to create a solid skincare routine, not because I have acne or any real problems with my skin but more to prevent ever having problems. After trying many products and different steps, I finally came up with a solid skincare routine that I think suits my skin.
I wanted to share my skincare routine for people who also want to create a skincare routine, but don't know where to start. The problem areas I've noticed are dryness all over my face that can sometimes be so dry makeup will look patchy in those areas and redness around my nose and cheek area. My routine is specifically tailored for my skincare needs so if you're someone with oily skin and acne you should probably look into products that suit your skin, luckily for you most of the products I use come in different formulas for different skin needs. My routine consists of different steps that take place throughout different times of the day, so the steps will be in a chronological order, but don't let the amount of steps scare you the whole routine takes a maximum of ten minutes (aside from optional steps that I only do sometimes) out of my day.
Morning-
Step 1: Wash my face with the Neutrogena Pink Grapefruit Acne Cream to Foam Facial Cleanser. Even though this product is made for people with acne prone skin I like it because it is deep cleaning. The only flaw with this product is that it can be drying, and my skin is naturally already dry. The only reason I'm able to use this cleanser is because the rest of my routine (throughout the day) is so moisturizing it cancels out the dryness from this product. If I feel like using a cleanser that isn't so drying I'll use the Clean & Clear Morning Burst, which I also really like.
Step 2: I apply the Fourth Ray Beauty Matcha Milk to my face. This product is both moisturizing and energizing. I apply the product to my face using the dropper, and then use my Rose Quartz Roller also from Fourth Ray Beauty to help rub the product in. The roller also tightens skin and is super cooling on the face (even without refrigerating) which is a great morning pick me up.
Step 3: I spray the Fresh AF mist from Fourth Ray Beauty over my face. This spray wakes me up, is energizing and brightens the complexion.
Step 4: Before applying my makeup I use the Mary Kay Primer Sunscreen with SPF 15. I'm very light skinned so I worry about sunburn or sun damage, and I've recently started using this problem. I apply it under my makeup like any other primer and it helps me protect my skin from the sun all day.
Step 5: A lot of people forget about protecting their lips but it's really important to take care of your lips to, so a few minutes before applying lipstick or lip gloss (depending on my mood) I apply the Mary Kay Sun Care Lip Protector Sunscreen with SPF 15. This is also really smooth so it works like a chapstick and sunscreen in one.
Throughout the Day-
Optional Step 1: Even though may skin is generally very dry sometimes my makeup can result in my nose, eyelid and forehead area looking shiny, so I use the Mary Kay oil blotting sheets to blot off the shine. Truthfully I think any brand of oil blotting sheets will do the job I just use the Mary Kay ones because someone gave them to me.
Optional Step 2: This step is generally for times when I am not wearing makeup. During those times I like to spray the Fourth Ray Beauty Fresh AF Mist on my face again or alternatively I'll use the Mario Badescu Rose Water instead. This helps my face to not look so dull and lifeless without makeup.
Night Time-
Step 1: Wash my face in the shower using either the same Neutrogena cleanser as before or the Clean & Clear Night Relaxing Cleanser. This step is pretty self explanatory and it's part 1/3 of getting all my makeup to come off (full coverage makeup girls know the struggle).
Step 2: I use the Neutrogena makeup removing wipes to remove my makeup. Generally one wipe is more than enough but if I'm wearing a full glam look I'll use two makeup wipes. Even if I skip every other step this is the one step I will never skip. I am the kind of person who must remove my makeup before bed no matter what. It's so important because leaving makeup on overnight can be so damaging.
Step 3: I apply the Mamonde Rose Water Toner using a cotton round. This toner literally removes every spec of dirt and any skin toxin from my skin. This is probably my favorite step in my entire skincare routine, because I can visibly see the dirt being removed from my skin and it is so satisfying.
Step 4: Using my hands I apply the Innis Free Green Tea Seed Serum, I warm the product in my hands a little bit and then I pat it into my entire face making sure not to ignore my neck. This serum preps the skin for moisturizer, although it is super hydrating alone and smells amazing too.
Step 5: I moisturize my face using the Laneige Water Bank Cream. I like this moisturizer because it's not too runny or liquid to use after the serum it is thicker like a cream but not too thick. The consistency is just perfect and it provides the perfect amount of moisture. I enjoy putting on lots of moisture products at night so they can soak into my skin and I can have smooth skin in the morning when I wake up.
Step 6: My under eye area can get quite dry so I use the SAEM Iceland Hydrating Eye Stick. The product is in the form of a stick so I swipe it over my under eye area once and my eyes are good to go. Aside from providing extra hydration to an area of my face that I might miss with other products it also helps with puffiness and dark circles which I have both of.
Step 7: I apply the ELF Cosmetics Lip Exfoliator to my lips. I like this product more than some other lip scrubs I've tried, because it is the form of a lipstick so you don't have to scoop the product out with your fingers plus it makes your lips super soft without cutting your lips. It's edible but the taste isn't overly strong like some other lip scrubs (you can also just wipe it off). Other lip scrubs I like though are the LUSH Cosmetics one and the Bite Beauty one.
Optional Step: I use a biore pore strip, I prefer the charcoal ones but occasionally I'll use the normal ones. I wouldn't recommend this for every day use or frequent use at all, because that can become damaging but every once and a while these do a good job of removing blackheads. I'd probably do this step after toner and before essence though.
Optional Step: A face mask is always super nice for self-care purposes. I like sheet masks a lot one of my favorite is the Innis Free sheet mask (K-Beauty products are the best!). There are lots of other great masks on the market too like the Bliss Overnight mask, which I love to use because my face looks super bright when I wake up. In general I try to do a mask once or twice a week, even though that doesn't always happen. The great thing about masks is they're super affordable, come in many forms (sheet mask, peel off mask, overnight mask, etc.) and can target any skin problems you might have.
Optional Step: Applying the Laneige Sleeping Lip Mask to my lips. This product comes in the form of a lip balm, you scoop it out and apply it. Whenever I feel like my lips are super dry from being in the sun too long or a very dry liquid lip I apply this before bed and when I wake up my lips feel super smooth.
That's my full skincare routine! I really recommend creating a personalized skincare routine for yourself and your skincare needs. If you're someone who cannot commit to a routine I'd recommend trying to use at least a cleanser, sunscreen, toner and moisturizer if possible. K-Beauty brands like Laneige and SAEM are also a good option for beginners, because the products are made for a variety of skin types and are often very affordable. I've personally purchased skincare products from Kollection K in the past, they have a lot to choose from at great prices and they also offer a lot of samples so you can experiment with which products work best for you (not sponsored I promise!).
I hope you likes my routine, and best wishes in your skincare routine and finding the products for your skin!
Worth It Wednesday: UltaBeautyxMarvel
02/02/2019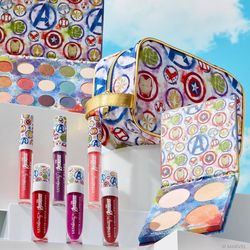 On Sunday my bestie sent me an Insta dm with a photo that Ulta Beauty had posted of the UltaBeautyxMarvel collection. My initial reaction was that it was an April Fool's Day joke (one day early), but upon further investigating I realized the collection was 100% real and that is when I made it my mission in life to purchase the collection (or at least most of it). At the time I was eating a restaurant that was only minutes away from Ulta, but unfortunately they close early on Sunday so I couldn't make it to the store on time. That night I hopped on the Ulta website picked out my favorite items and ordered them making sure to choose the rush shipping option because I'm ridiculously impatient.
Yesterday my package arrived in the late afternoon and to say I was excited to open everything is the understatement of the century. I was like a kid on Christmas and the fact that they released a new trailer for Avengers Endgame, and I was able to purchase my tickets for the movie on the same day only added to my excitement. The items I purchased were the eyeshadow palette, highlight palette, matte lipstick in out of this world, matte lipstick in supercharged, lip gloss in invincible, lip gloss in dream team, round top clutch and weekender bag. I also ordered an extra highlight palette for Riza because she's part of my Marvel Movie Squad and I def wanted to share the Marvel love with her.
I'm going to give my initial reaction to everything on this blog post, but for a full in depth review you can also check out my Youtube Channel called Kennedy Castillo where I'll be uploading a review video of the collection.
Marvel's Avengers Eyeshadow Palette- Initially I couldn't help, but notice the similarity between this palette and the Colourpop palettes specifically the Disney Princess Designer palette. Online the colors did not work me too much, but in person the palette has a nice range of colors. There are a few greens and blues that aren't too crazy for beginners, but can add a nice pop of color to any look and of course a great range of neutral earth tones. One of my favorite colors in the palette is a shimmery copper gold called Game Changer. The names are all somewhat generic and not very Marvel specific. Personally if I was designing the palette I would've added colors like a gold called captain marvel, silver called vibranium, black called black widow and other similar shades. In terms of the packaging the outside of the palette reads "courageous, tenacious, fearless, legendary" and the entire palette gives me quantum realm vibes (spoiler?). In general I liked the colors in the palette and the packaging, but would've loved for it to be more specific to Marvel, Avengers Endgame and the collection as a whole.
Marvel's Avengers Highlight Palette- The packaging on this palette is identical to the packaging of the eyeshadow palette, which I like because it makes the collection very cohesive. I was actually SHOOK by the highlighters in the palette, they are blinding. I've never used a highlighter from the Ulta Beauty brand before so I didn't expect much from this palette as far as being blinding but OMG was I pleasantly surprised. I also liked that there is a good range of highlight shades so al my ladies from Titan to Wakanda can have a highlight that suits their skintone. I also preferred the names on this palette like "Become a Legend" and "Prepare to Be Amazed" (I'm so prepared to be amazed by Endgame btw). Overall I was very impressed by this palette and while I still feel like it could've been more specific I can't hate on it.
Liquid Lipsticks- There are a total of 4 liquid lipsticks in this collection, your girl's not trying to break the band though so I purchased 2. The colors I purchased were "Super Charged" and "Out of This World", and both names give me total Captain Marvel/Guardians/Thor vibes because do the whole other planet implications. One of them was more of a berry and the other a dusty rose color. I don't have too much to say about these because I'm a total liquid lipstick girl (thanks to Kylie) so I pretty much love all liquid lipstick. The one thing I'll say is that I wish their was a wider selection of colors for this product, because most of the colors were in the deep berry or deep rose range. I really liked the packaging on these because they have the Avengers logo and other character logos like the Thor Hammer and Black Widow logo on them, which is super cute.
Lip Gloss- Again I purchased 2 of the 4 colors in this collection. The colors I purchased are Invincible and Dream Team. One of them is a shimmery icy pink orange shade and the other is not shimmery and it is a deep rose color. I'm not much of a lipstick gloss girl, but I do really like these. I also like that they aren't clear or super sheer because I love pigment. Just like with the liquid lipsticks I don't have much to say about these.
Weekender Bag- I've been wanting a travel makeup bag for the longest time, so when I saw this one it was more of a necessity than a want (or maybe that's jus what I told myself). The bag has two compartments for makeup and seems spacious enough to fit a few palettes and whatever other makeup you'd normally take on vacation (even if you pack a ton of makeup like I do). The bag is also flat so it could easily fit into a suitcase or other travel bag. The one complaint I have about this bag is that aside from the wording "courageous, tenacious, fearless, legendary" and quantum realm like pattern like on the palettes it doesn't really have anything on it that defines it as Marvel or Avengers. Unlike the palettes it doesn't even have the avengers logo on it. As someone who needed a travel makeup bag I really liked it, but with that being said it doesn't scream Marvel so you could totally buy a bag just like this somewhere else.
Round Top Clutch- Call me silly for thinking a makeup bag is my favorite thing in the collection, but it's true. This bag is small like for a purse the highlight palette fits comfortably inside it but the eyeshadow palette does not fit. The outside of the bag features Captain Marvel Carol Danvers front in center and off to the side Hulk, Iron Man, Black Widow and Captain America. The heroes on the bag made it the most personalized Marvel item in my opinion. I would've like to see the other original Avengers on the bag too (Thor and Hawkeye) but I'll forgive that because I'm obsessed with the bag. I'll definitely be keeping it in my purse and I think it'll fit all the essential like powder, oil blotting sheets, lipstick, lip gloss and any other makeup I need in my bag.
Overall- I don't think it would even be possible for me to dislike a Marvel's Avengers makeup collection, because if I'm obsessed with anything it's Marvel and makeup (okay maybe the Hunger Games too.. but that's a different story). With that being said I think the quality of the makeup is great especially for it being Ulta Beauty brand and not one of the bigger makeup brands, but I think it could have been better thought out and incorporated Marvel, The Avengers and Endgame more. I would've liked to see more products with The Avengers on them like the round top clutch makeup bag. I also would've liked to have seen more of the marvel ladies on the products we saw Black Widow and Captain Marvel but we totally missed Valkyrie, O'Koye and Nebula and not to mention the dusted characters like The Wasp, Gamora, Scarlett Witch and Shuri. I also would've liked the shade names to be more specific to the collection because most names were too generic and not very specific to Marvel, and who knows maybe I'll understand the names more after the movie but for now they don't seem specific to Marvel.
Is It Worth It?
Totally worth it! I feel like I was very harsh on the collection throughout this post, but it's only because I expect great things from Marvel. With that being said the most important thing is the quality of the makeup and the quality of the makeup surpassed my expectation. So if you're buying this collection for the quality of the makeup, because you love collecting makeup, you love collecting Marvel merch or you just want to try it out for yourself then I think it is completely worth it. If you want something very specific to Marvel though or are trying to save money I'd say skip out on this collection.